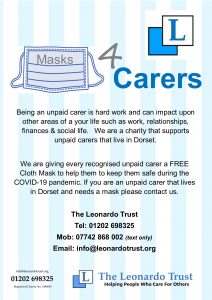 Free Face Masks Available for Dorset's Carers
Being an unpaid carer is hard work and can impact upon other areas of your life such as work, relationships, finances & social life.
We are a charity that supports unpaid carers that live in Dorset.
We are giving every recognised unpaid carer a FREE Cloth Mask to help them to keep them safe during the COVID-19 pandemic. If you are an unpaid carer that lives in Dorset and needs a mask please contact us.
The Leonardo Trust
Tel: 01202 698325
Mob: 07742 868 002 (text only)
Email info@leonardotrust.org
Download the application form
Masks4Carers Application Form
Or use our on-line application form
Masks4Carers On-line Application Form